We are addicted.  There, I said it.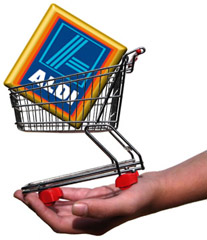 I remember one of my most powerful mentors (he has since passed beyond this cacky coil) was so miffed when he found out that each box of Tide soap had an allowance for Soap Box operas. . . daytime TV.   He was so incensed that he was the force behind introducing No-Name Generic Food products here in the U.S.   Is was during this effort that we connected, starting me on a journey of marketing and consumer packaged goods.
I came to know and understand the quality of various products.  Is there a difference between afore mentioned Tide and the "house brand?"  Is tomato sauce from Del Monte any better?  Heinz catsup?
I came to appreciate the value savings of Private Label and saved nickles and dimes over the years as a result of Equate (Wal-Mart) Janet Lee (Albertsons) and a host of other store brands.
Then I discovered Aldi.  This German based company has made an art out of providing savings.  One recent 20/20 program on TV indicated that could save between 10% to as high as 40% on your food bill by frequenting Aldis.
I often use Aldi as a point of illustration in my Keynote Speaches.  The Customer Experience is exceptional.  It fits in the same catagory as Southwest Airlines.  A product and service that is world class and that caters to the low end of the product offering.
One of the things that they do that puts them into the Customer Experience Hall of Fame is all their products carry the double guarantee.  If you buy a product and it doesn't meet your expectations you get another product free of charge and you get your money back.
Makes you wonder what would happen if all of our business had a double back guarantee?  Would you deliver your service a second time AND give them back their money?