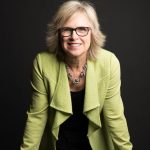 I dropped into the bus seat next to a complete unknown.  Returning to the hotel after an evening conference excursion to Chicago's Second City Comedy Club, I supposed the conversation would be good.  Little did I know.
This conference was exclusively for Certified Speaking Professional (CSP) members of the National Speakers Association.   A CSP is an earned certification that is held by less than 2% of professional speakers.
"Hi, I am Kordell Norton."
"Well, hello, my name is Jill Konrath."
"You are kidding," I said wide eyed.  "THEE Jill Konrath of SNAP Selling?"
"Yes"
"I am reading your book right now.  Nice job," I proclaimed.
Jill is, I might note, an incredible sales trainer to the Who's Who of Business.  Author of several books, she crisscrosses the globe training tens of thousands.
What followed was an incredible conversation. At the time I was personally  going through the final throws of a marriage that would not weather the storm, and in addition had had just battled  cancer.  My life in total ruin, I explained how I felt so hypocritical that I was a "motivational speaker" that supposedly could help others, when I was struggling to put bread on the table.
Then Jill opened up about a time in her career when her two biggest clients had budgetary cutbacks and she found herself struggling . . . big time.
She said, "I thought of how hypocritical I was  that I was a sales trainer, and I couldn't even sell myself!"
I thought, "boy she has me pegged."
The conversation that followed was inspiring.  Most of it I don't recall.
What I do recall was the letter that arrived, unasked for, a few days later.  It came as a total gift.  It's wisdom beyond value.   With Jill's permission I share part of it with you.  (Note:  This was a personal note to me and so I have edited it down . . . a lot)
Don't look back. A big mistake I made was trying to re-create my past success.  It didn't work.
What's fun to work on. At this stage of your life, you have lots of capabilities.  But just because you can do something, doesn't mean you should.  You need to identify what kind of work gets you excited.  What kind of problems are people facing.  What are their issues?  What could you be doing to help them?  This is where you belong — working on stuff that makes you happy.  This is where you'll be most effective.
Change problems to challenges. We can't think creatively from the position of problems.  Instead, turn it into a challenge that starts with "HOW CAN I…"  Your brain can't resist going to work then.  And, new ideas will start popping into your mind.
Focus on serving. Define who you want to serve.  What kinds of organizations do you feel called to help?
There is a time when you realize that the successes in life are not as important as being significant for someone else.  For example, you had hundreds of teachers, but only 2 or 3 that were significant, that truly changed you.
Today calls for being significant.  Today calls for more Jill Konraths.  Smell the flowers.   Pay attention to those around you who are quietly screaming for a lifting hand.  Today you may not write the next best seller.  You may not save the drowning soul.  But today, you can help with a well-timed note or text.  Now you can encourage the downtrodden.  I understand that 40% of our humanity is struggling with teeth rattling, life shaking challenges.  Pay attention.
Slow down and pay attention to the now.  Tamp down the voices of uncertainty in the future.  Distance yourself from the vacuum of the past.
Live today.