Books by Kordell Norton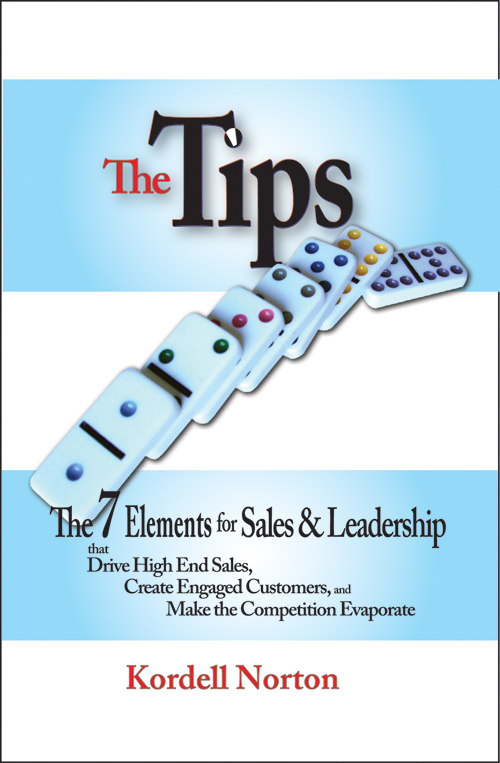 The Tips –  The 7 Elements for Sales & Leadership that Drive High End Sales, Create Engaged Customers, and Make the Competition Evaporate
He was struggling to manage a sales team and their migration to high end offerings when he discovers the secret of the Dominoes.  Come and discover the powerful principles of leadership from the story of a father, his friend, and a son.In The Tips, you will get ways to:
Leverage your sales force to drive greater success.
How to not only distance yourself from your competition . . . but to make them go away.
How to improve the Time Management capabilities of your sales team.
A quick and simple read, The Tips will give you common sense insights on sales management, messaging that will make you stand out in the market, and the ability to boldly lead with a vision.
Why waste time on gaining experience when you can immediately benefit from The Tips.
Throwing Gas on the Fire: Creating Drastic change in Sales and Marketing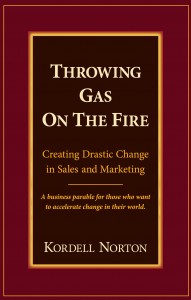 This business parable explores a discovered diary that contains the secrets to creating awesome customers experiences, creating events that have uber "word of mouth" buzz, and methods to create and communicate the value in what ever you are doing.  The characters explore how brands communicate value, and discover creativity in almost every business issue.  Described as a "two bathroom read" this little book is jam paced with powerful information.  Drawn from the authors experience when he was a marketing executive with a $31 million dollar a year budget who had to come up with powerful and innovative marketing in a moments notice.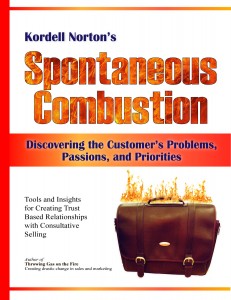 Spontaneous Combustion: Discovering the Customer's Problems, Passions, and Priorities

Trading and bartering gave way to sale skills which morphed into Solution Selling.  Today's networked, information rich environment requires a more mature and consultative way of connecting with clients and customers than dated solution selling.  In a chocolate+peanut moment the author discovered a unique and powerful method for sales people to Say Less . . . & Sell More.   This book teaches the four types of questions that need to be asked in any sales call so the client/seller relationship developes trust and a true partnership.  Good for both new sales people and tenured old pro's.
Marketing Moxie: Connecting with Customers and Strategies for EXPLOSIVE Business Growth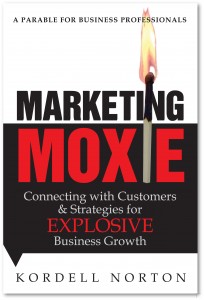 This parable follows the adventures of a professional who is thrust into the heavy demands of being an executive AND  a marketing wiz.  Anyone who would like to improve their marketing "chops" and get tons of ideas on how to increase their sales will benefit for this book.  Even experienced sales and marketing people will discover the long held beliefs and practices need to be changed.
Grow Your Organization – The Tools, Tips, Tricks, and Traps to Growing Your Association and Have a Blast at the Same Time
In Growing Your Organization you will find real world examples of ways to get the increases in revenue, member growth, retention, and improved volunteerism.  Using methods of today's giant successful corporations, and throwing in proven lost cost, highly effective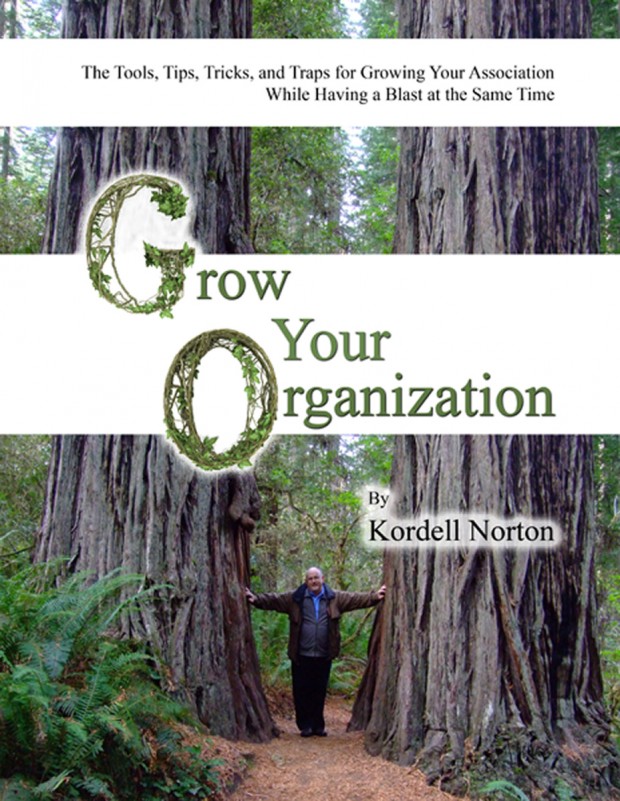 practices of associations and chambers of commerce from across North America, you have this book.   It will help you:
Make your marketing message connect with potential new members!
Give you low cost/no cost ways to drive membership and revenues . . .even non-dues sales.
Share tools to increase Board participation, and increase attendance.
Improve word of mouth buzz for your organization.
Make growing your association fun.
And coming soon. . . .
Lighting a Fire Under Your Business
Prospecting for Professionals